Table Rock Lake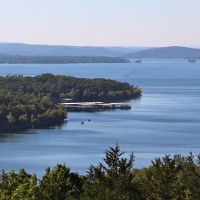 Table Rock Lake is the perfect place to swim, fish and sea-doo.
Table Rock Lake Dam was completed in 1958 and has provided fisherman with an array of fish including some ofAmerica's largest Large Mouth Bass.  Table Rock Lake has a surface area of 52,300 acres with 857 miles of shoreline. Visitors at Table Rock Lake can enjoy skiing, fishing, sailing, tubing, swimming or just a comfortable evening on the lake. Table Rock Lake is controlled by the U.S. Army Corps of Engineers and its waters are used to generate power which can be distributed throughout the country.
Table Rock Lake is a warm water lake offering anglers an array of species including Large Mouth Bass, Small Mouth Bass, Channel Cat, White Bass, Crappie (white and black), and other pan fish.  Table Rock Lake hosts Bass Master Tournaments and other sponsored tournaments throughout the year which has allowed Table Rock Lake to earn a reputation as being one of the best bass lakes in America.  With the Bass Pro Shop headquarters only an hour away, anglers are able to purchase the best equipment and enjoy some of the best bass fishing America has to offer.  Table Rock Lake not only offers the best bass fishing in America, it's waters below the dam offer the best trout fishing in Missouri.  Lake Taneycomo is supplied by Table Rock Lake and is the home for the state record brown trout.
Many techniques will work on Table Rock Lake.  Dark color jigs with pork trailers are a sure bet during the fall and black spinner baits used during the night can produce some monster bass.  Texas rigged plastic worms work well around boat docks and submersions.  There are various types of underwater cover and lay downs supplying homes for bass and crappie.  Tying off to submerged trees and jigging vertically is a popular way to catch keeper crappie.  Anglers also use Trumann Minnows for white bass and crappie.  Whether you are fishing, swimming or water skiing, Table Rock Lake is perfect vacation destination for you and the family.  Table Rock Lakealso offers guests boat and sea-doo rentals.
Table Rock Lake State Park Marina is located a mere 5 miles away from central Branson.  You can rent boats and ski-doos at the marina.  Table Rock Lake is a must visit destination in Branson.  For more information on Table Rock Lake call 1-417-334-4101.