Bull Shoals Lake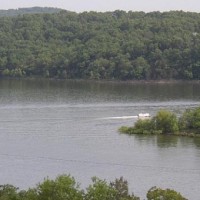 Bull Shoals Lake – A Branson Resident Favorite
Bull Shoals Lake is a favorite among Branson, Missouri locals for calm water and small crowds.  Bull Shoals is shared by both Missouri and Arkansas and can be accessed off of Hwy. 76 between Branson and Forsyth.  Although this lake is maintained by the Army Corp of Engineers, the K road boat dock is free parking and is located next to a marina.  Bull Shoals is the most unique lake in Southwest, Missouri.
Bull Shoals is a clear lake that is a combination of cold and warm water and deep and shallow.  This lake is perfect for boating, skiing, jet skiing, swimming and fishing.  Bull Shoals has over 71,000 acres of water surface and roughly 1,000 miles of shoreline.  Sand bars can be found up and down the lake making Bull Shoals a great place to camp.  Walleye are abundant in Bull Shoals making it unique from Table RockLake and Lake Taneycomo.  It is not uncommon to catch walleye in the ten pound range.  White Bass are also a popular sporting fish in this lake.  During the spring spawning period, a limit of white bass can be caught in a less than two hours using whit or yellow rooster tails.
Bull Shoal Lake offers water sports, camping, fishing, boating and relaxation just minutes from downtown Branson.  One day on Bull Shoals and you will see why it is the best kept secret in Branson.  You can find additional information on Bull ShoalsLake at http://www.mdc.mo.gov/.