Mickey Gilley – Show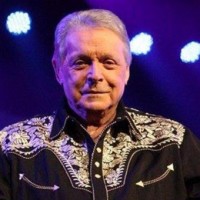 Mickey Gilley is one of Branson Missouri's favorites.
Mickey Gilley is considered a country legend with a list of 39 hit songs under his belt.  Mickey Gilley is known for being one of the creators for Gilley's club.  Mickey Gilley's Club is remembered as a modern country music night club which opened in 1977 a closed in 1989.  Mickey Gilley's club was credited with being the most famous country night club in the world.  During its hot years, Gilley's attracted attention from every country music star, and if you were to be considered a star…you had to play at Gilley's.  Modern country music is believed to have started at Mickey Gilley's Club.  It allowed artists to break away from the traditional style and move towards a pop style.  Urban Cowboy, starring John Travolta, was filmed on the Gilley's site. This 1980 movie was such a hit that Mickey Gilley could hardly control fans as they would try to force there way into the club were the movie had been created.  Before Mickey Gilley's club, country music albums averaged about 200,000 sales per copy.  After the movie was made country music albums averaged 500,000 sales per copy.
The Mickey Gilley show continually impresses BransonMissouri visitors with a string of country hits and great comedy.  Mickey Gilley's honky-tonk piano sounds and Joey Riley's comedy will keep everyone entertained.  Mickey Gilley not only plays his hits, he will also play some of his cousin's hits, Jerry Lee Lewis.
Mickey Gilley continually impresses audiences in BransonMissouri with his award winning band which includes three horn players.  Mickey Gilley and his two lovely sidekicks the "urbanettes" work well together as they put on one of the best shows in Branson.  If you're hungry you can get a bite at Mickey Gilley's restaurant, Gilley's Texas Cafe.  For More information on Mickey Gilley, or to purchase Mickey Gilley tickets, visit his web site at www.gilleys.com.