Dixie Stampede – Show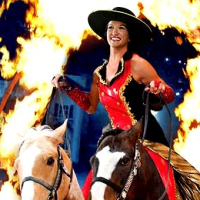 Dixie Stampede is Entertainment and Food that the whole family will enjoy.
Dixie Stampede is Dolly Parton's childhood dream come true. Hailed by Dolly Parton as "The Most Fun Place to Eat," the 35,000 square foot Dolly Parton Dixie Stampede show is based on her memories of family fun." The Dixie Stampede show offers guests one of the most unique entertainment experiences in Branson Missouri.
Great fun for everyone, the 90-minute Dixie Stampede show is an entertaining combination of a Buffalo Bill Wild West show and friendly Civil War rivalry met with the southern charm and horse-drawn carriages.  With a large cast including 32 horses, the Dixie Stampede show is filled with trick riding, barrel racing, ostrich and pig races, singing, dancing, comedy and special lighting effects. With a variety of horses from Quarter to Belgian draft steeds, Branson visitors will awe at equine grace and versatility that the Dixie Stampede show has to offer.
Dolly Parton's Dixie Stampede offers guests, in true southern fashion, to a four-course, southern style meal of chicken, pork, soup, herb-basted potato, corn on the cob, biscuit, dessert and beverage.  A powerful patriotic finale filled with Americanasongs written by Dolly Parton and featuring bright costumes and lighting leave everyone feeling good, no matter which side you're on the Dixie Stampede show will deliver.
Christmas is also a special time at Dixie Stampede, with elves, evergreens, poinsettias, holiday tunes and a live nativity. Dixie Stampede also offers a friendly rivalry between the North and the South Pole elves.  You will enjoy watching the snow fall as the Dixie Stampede nativity seen comes to life before your very eyes.  Folks will also enjoy the Christmas music, lights and flying angels.  What are you waiting for…a show like Dixie Stampede will entertain everyone in the family anytime during the year.
You can purchase Dixie Stampede tickets at the theatre or any Branson receptive.  You can visit Dixie Stampede online at dixiestampede.com.