Lake Taneycomo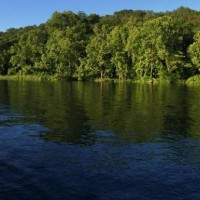 Lake Taneycomo is without a doubt Missouri's best trout fishing.
Lake Taneycomo is considered by many Missouri residents to be the best trout fishing in the state.  Lake Taneycomo was created in 1913 after the completion of the Power Site dam on the White River.  Lake Taneycomo was a warm water lake consisting of bass and pan fish.  It was not until 1958 with the completion of Table Rock Dam that Lake Taneycomo became a cold water lake perfect for trout.  The water released into the lake from the dam has a cold temperature due to the water being used to turn generators for power production.  After the completion of Table Rock Dam, Shepherd of The Hills fish hatchery opened.  The Hatchery is located less than 300 yards below the dam and supplies Lake Taneycomo with over 700,000 rainbow and brown trout per year for stocking.
The current brown trout state record was caught in LakeTaneycomo on two pound test leader with a fly fishing rod. The big brown weighed 26 pounds.  The most popular technique for catching trout on Lake Taneycomo is to use salmon eggs or power bait and allow the bait to bounce off the bottom while drifting in a boat.  Flies and artificial lures work well, specifically something in a dark color.  Trolling with spoons also seems to be a very popular method.  Black #2 Blue Foxes are a sure bet.  You may also want to try silver and gold Little Cleo's while trolling.  Either way you fish it, you will see that Lake Taneycomo is fun for the whole family and the best trout fishing in Missouri.
The easiest way to get to Lake Taneycomo is to exit Hwy 65 onto Hwy 76 and head east.  Make a right at the stoplight onto Hwy 65 Bypass.  The lake is about 1.5 miles up the road.  Be sure to visit the marinas to get up to date information on which baits are working best and enjoy your fishing on LakeTaneycomo.  For more information on Lake Taneycomo call(417) 895-6880.