Resorts in Branson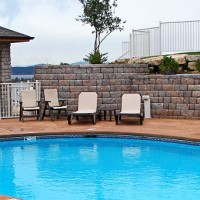 Branson Resorts offer amenities that you can't find anywhere else.
Branson resorts offer the seclusion and comfort of home without giving up ease and convenience.  Branson has several resorts located around its' border but only one located in the center city.  Thousand Hills is the number one Branson resort for visitors.  I know, you're probably wondering why we mention Thousand Hills so much on our pages.  We believe that Thousand Hills has everything that other Branson Resorts have to offer with a little more sugar on top.  They are located in the center city.  I will repeat that one more time and add a little something extra…they are the only Branson Resort located in the center of everything.  Thousand Hills has units available for multiple family types from condos to cabins and their motel room prices are comparable to hotels in the area. Why choose a Branson Resort, read further and you'll find out why.
Branson resorts, and resorts in other vacation destinations appeal to the baby boomer generation and our up and coming generation x.  Why such the appeal, resorts have more to offer than just your standard room and coffee maker.  If you walk into a condo or cabin at a Branson resort you will immediately see the difference.  You have a living room, fully equipped kitchen, tile counter tops, dining area and a washer and dryer. As you continue walking through the unit you will notice that each room has its own private, full bathroom.  Branson resorts are perfect for families with children or couples and groups that require that added privacy.  The one bedroom units are perfect for a romantic honeymoon or anniversary that will no doubt end up in the two person Jacuzzi tubs.  The four bedroom units are ideal for family reunions that need to save a little extra on eating out by having complete use of a fully equipped kitchen.  So what are you waiting for, make plans today to secure your room at a Branson resort?  Ah…you're wondering which Branson resort you should go to.  For those who have not been anywhere else in our website, let me suggest Thousand Hills Golf Resort.
Thousand Hills Golf Resort is located less than 1 mile south of Hwy 76 in the heart of Branson.  Fully stocked with mouth watering amenities, this Branson resort has 7 indoor and outdoor pools, SOMA massage therapy, a tennis court, a hot tub, FREE high-speed internet in every room and a Golf Digest award winning course equipped with GPS in every golf cart. Why look anywhere else?  This Branson Resort has everything, great prices, great location, great amenities and great service.