Stone Hill Winery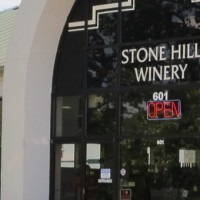 Stone Hill Winery is the oldest winery in Missouri.
Stone Hill Winery is full of rich American History dating back to the 19th century.  Before the 1900's Stone Hill Winery were the proud holders of eight world fair gold medals including one from Vienna.  In 1920 Stone Hill Winery was forced to close it doors due to the advancement of Prohibition.  What once were the largest cellars for wine production and storage in America suddenly became a large mushroom farm.  In the mid 1960's, Stone Hill Winery began producing wine once again and now is one of Branson's premier attractions and the oldest winery in Missouri.  Three of the children who brought back Stone Hill have Bachelor degrees in viticulture.
Stone Hill Winery uses French-American hybrid grapes such as Vidal, Seyval and Vignoles.  These grapes compare closely to Chardonnay and Sauvignon Blanc in flavor and tannins. Stone Hill Winery has helped bring Missouri back into one ofAmericas leading wine producers.
The Stone Hill Winery facility in Branson Missouri offers a guided tour of sparkling wine bottling and wine tasting. Sparkling wines are America's version of Champagne.  In order for a sparkling wine to be called Champagne, it must be grown in the Champagne region of France.  The Branson Facility offers a video viewing room, gift shop and six tasting rooms.  Come to Stone Hill Winery and enjoy some of the best wine produced in Missouri and America.
Stone Hill Winery is located in Hermann, Missouri 60 miles west of St. Louis and 15 miles south of Interstate 70, just off of Highway 19 and Highway 100.  The New Florence facility, at the junction of I-70 and Highway 19, houses Stone Hill Winery's bottle-fermented champagne operation, here visitors can sample and purchase wines in the gift shop. Stone Hill Winery's Branson Missouri facility features a guided tour of the sparkling wine and cream sherry production, a video viewing room, tasting rooms and a gift shop.  You can visit Stone Hill Winery at stonehillwinery.com.
Stone Hill Winery in Branson, Missouri offers a great selection of white wines that make a good companion to spicy Asian cuisines.  What are you waiting for, go to Stone Hill Winery and enjoy wine from one of the nation's largest wine producers.