Shepherd of the Hills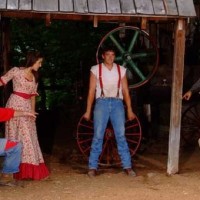 Shepherd of the Hills Outdoor Theatre
Branson, Missouri tourism is largely connected to the publication of a 1907 novel written by Harold Bell Wright named The Shepherd of the Hills.  Instructed by his physician, Mr. Wright started coming to the Ozarks from Kansas in 1898.  With permission of homestead owners John and Anna Ross, Harold pitched a tent on their property that is now the location of Inspiration Point.  The spectacular views of the Ozarks seen from this point are detailed in the Shepherd of the Hills novel.  The novel uses fictitious names of actual Ozark settlers that Mr. Wright encountered during his eight-summer stay.
The book became the fourth most widely read book in history. The success of the book intrigued many Americans who then visited Branson to see where Mr. Wright received his inspiration.  The Ross's eventually sold their homestead to aSpringfield native Lizzie McDaniel.  Lizzie did not want to popularity of the homestead to fade so she started performing the novel in her front yard to visitors.
The Shepherd of the Hills play is still performed today and has become the longest-running outdoor play in American history. The outdoor theatre is located between Branson and SilverDollar City just off of Hwy. 76.  You can find more information on Shepherd of the Hills theatre by calling 1-800-653-6288.