Branson Cabins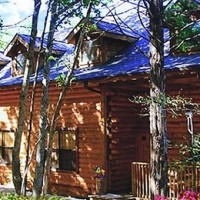 Branson cabins are surpassing condos as the new place to stay in Branson Missouri.
Branson cabins are a popular choice for visitors who want to surround themselves with a secluded mountain atmosphere without giving up the convenience of being close to the city. Branson cabins come in all shapes and sizes from one bedroom Jacuzzi cabins to 4 bedroom family cabins.  By far the best cabins in Branson are offered by the Cabins at GrandMountain.
Check for rates and availability.  You can call us at 1-800-864-4145.
The Cabins at Grand Mountain are located less that 1 mile north of Hwy 76 within walking distance to Tanger Outlet Mall.  They are the only Branson Cabins that are located in the center of Branson.  From the front door of your cabin you can hop in your car, take a short drive through the woods and be at Tanger Outlet Mall or the Grand Palace in less than two minutes.  Each Branson cabin is made from Colorado cut spruce logs.  When you walk into your cabin the first thing you notice is the beautiful hardwood floors and immaculate decoration on the walls.  Each Branson cabin has a fully equipped kitchen with tile counters, utensils and plates for you to use.  You will have a spacious dining room with a view to the kitchen and the living area.  Each Branson cabin also has a screened in back porch where you and your family can enjoy a comfortable night of relaxation.
Branson Cabins start at $129 dollars a night and what a deal. You get a long list of amenities with a Branson cabin to include 7 indoor/outdoor pools, a tennis court, SOMA massage therapy, a fitness center, free wireless internet in every cabin and a 18 hole Golf Digest award winning golf course.  Below is a list of what you can expect to have in a Branson Cabin.
Jacuzzi Tub
Private Deck
Spacious Living Room
Fully-Equipped Kitchen
TV's and VCR
Cable Television
Premium Channels with ESPN, HBO
Pull-Out Sofa Sleeper
Shower Gel & Soap
Iron with Ironing Board
All Major Appliances
AM/FM Alarm Clock Radios
All Linens Furnished
Dish & Clothes Detergent
Electronic Door Locks
Free High-Speed Internet
Check for rates and availability.
Branson Cabins can be rented for two nights and up.  The Cabins at Grand Mountain offer all the amenities with their cabins and also have the best center city location in BransonMissouri.  You can visit their website at http://www.branson-missouri-cabins.com/ for more information.  Thank you for letting My Branson help with your Branson cabin accommodation needs.