Ralph Foster Museum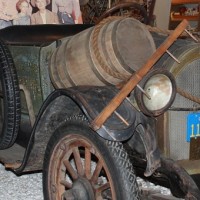 The Ozarks 40,000 Square Foot Heritage Museum
The Ralph Foster museum is located at the College of the Ozarks just two miles south of Branson.  This 40,000 square foot museum consists of stuffed animals, antiques, weapons, dolls and a large collection of Western and Native American artifacts.  The Ralph Foster museum is dedicated to the preservation of Ozark Mountain history.
The museum is dedicated to Ralph Foster, a Missouri native who donated his vast collection of American Indian artifacts and financial support to improve the presence of the museum. Ralph Foster moved to Springfield in 1932 and created his own radio station call lettered K-W-T-O.  One of his radio achievements was a live talent show called Ozark Jubilee. Many famous country music singers appeared on his radio station including Porter Wagoner and Chet Atkins.
The Ralph Foster museum is a must stop for history buffs visiting Branson.  Visitors will enjoy seeing the original Beverly Hillbillies vehicle.  More information about the Ralph Foster museum including admissions can be obtained by calling 417-334-6411 ext.3407.