Bonniebrook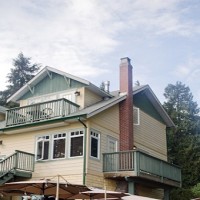 Bonniebrook – Home of the Famous Kewpie Dolls
Bonniebrook was home to the famous Rose O'Neill, inventor of the Kewpie Doll.  The Kewpie Doll was the first American Doll phenomenon.  In 1909 Rose O'Neill fell asleep in her studio and dreamed of cupid characters all around her and in her hands.  When she awoke from her nap, she instantly started drawing and the Kewpie Doll was born.  The Doll was as instant success and let to the creation of large and small porcelain German made characters.  Before the first dolls where created, Rose traveled to Germany to insure that the dolls were created in her vision.  During the 1940's Rose lost the majority of her fortune and her homes due to the lavish lifestyle she lived.  During this timeframe, a German freighter ship carrying thousands of Kewpie Dolls where sank by the British during World War I.
Rose O'Neill's fortune faded fast along with the popularity of her Kewpie Dolls.  Rose went from the highest paid female illustrator in the United States to a commoner.  Bonniebrook burnt to the ground shortly thereafter.  Rose maintained her high spirits and became a popular personality in the Branson community.  Rose O'Neill died in 1944.
Visitors to the Branson area can now take a tour of the recreation of Rose's beloved Bonniebrook.  The home was recreated using original photographs and memories of individuals that visited Rose at Bonniebrook.  Bonniebrook is located north of Branson just off of Highway 65.  You can find more information on Bonniebrook tours at www.kewpie-museum.com/.