Titanic in Branson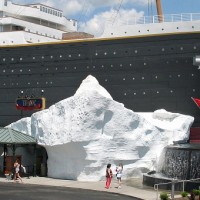 The Titanic – All Aboard on Branson's Newest Attraction.
Branson, Missouri is now home to the largest Titanic museum attraction in the world.  The museum was created half-scale to the original ship and towers 100 feet above Hwy. 76. Branson's Titanic helps recreate the last few hours of its maiden voyage with twenty galleries holding 400 artifacts.
Visitors will experience first class and third class during the 90-minute walk-through tour.  Guests will walk the Grand Staircase, send an SOS signal, touch the frozen surface of a regenerating iceberg, view exclusive interior and exterior photos of the Titanic, stand on the bridge and stand along side a replica of a Titanic propeller built to scale.  Upon entry through the iceberg, guests will receive a boarding pass with the actual name of a Titanic passenger and learn their fate on the memorial wall at the end of the tour.
The Titanic in Branson is one of many new attractions geared to bring in a new generation of visitors.  Branson is now trying to appeal to a younger crowd while maintaining its elderly guest base.  Water parks, the Branson Landing, Bass Pro Shop and Dick Clark's American Bandstand are just a few new places Branson has to offer for the 2006 year.
More information on the Titanic in Branson can be found at http://www.titanicbranson.com/ or by calling 1-800-381-7670. Come to Branson, Missouri and enjoy the Titanic experience.