Thousand Hills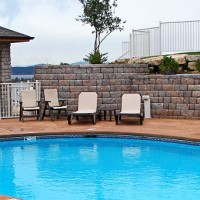 Thousand Hills Golf Resort is by far the best Branson resort.
Thousand Hills Golf Resort in branson's #1 lodging establishment offering vistors nightly Branson cabin and Branson Condo rentals.  The Branson Condos border Thousand Hills Golf Resort's beautiful 18-hole award winning Branson golf course.  Read more about Thousand Hills Golf Resort and it's creators below.
Bordered by many natural, rolling hills with an award-winning golf course as its scenic centerpiece, Thousand Hills Golf Resort is an expansive, commercial subdivision development filled with numerous attractions, restaurants and theaters planted over a 450-acre land mass.
Located within this subdivision is Thousand Hills Golf and Conference Resort, offering Branson visitors over 250 luxury condominium and log cabin accommodations, recreational golfing on a daily fee, 18-hole golf course, seven indoor/outdoor pools, a fitness center, free high-speed internet and meeting rooms.
Conveniently located in Branson's city center, guests are close enough to sense the heartbeat of Branson shows and attractions, yet far enough to avoid the hustle and bustle of the city. With thousands of visitors each year, Thousand Hills Golf Resosrt plans to remain the highest-quality resort within Branson where visitors can stay, play or own!
Check Thousand Hills rates and availability.
The Developers …
It's nice to know that President John Redford and Vice-President Dan Ruda are not only the original developers, but owners of Thousand Hills who are actively involved in every aspect of their business. On any given day, they can be found working in marketing, rentals, sales, construction and development, golf operations and accounting.
Since 1991, they have been instrumental in the development of Thousand Hills, and today they continue to develop its future by ensuring a first class guest experience with high-quality, luxury accommodations and the best recreational golf experience within Branson.
Their Background …
Redford, a Branson native since 1958, attended SouthwestMissouri State University, and through self-employment acquired experience in residential construction, development, project management, site selection, strategic planning, marketing, concepts and permitting.
Ruda, C.P.A. and Kansas State University graduate, built a foundation in feasibility studies, cash flow projections, business accounting and auditing while working for a large, 'Big 8' accounting firm in Kansas City, Missouri. Ruda relocated to Branson in 1985 to work in resort development.
In 1989, their complementary backgrounds led to a natural partnership and a labyrinth of resort, residential, condominium, commercial and golf developments, with a focus on design, construction, operation and marketing of whole-ownership condominiums.
Ownership …
Thousand Hills condominiums and log cabins are exclusively and wholly-owned, as compared to typical time-share accommodations wherein time and usage is shared between multiple owners. However at Thousand Hills Golf Resort, owners can enjoy their investment for the purpose of personal leisure or for rental revenue at any time. In addition to condominiums and log cabins, other exciting real estate options such as villas, residential lots and home sites are also available for whole ownership.
Thousand Hills Golf Resort is the number one lodging establishment in Branson Missouri.  Staying at Thousand Hills provides visitors with a great center city location, many outstanding amenities and reasonable prices.  You can visit Thousand Hills Golf Resort at http://www.thousandhills.com/.